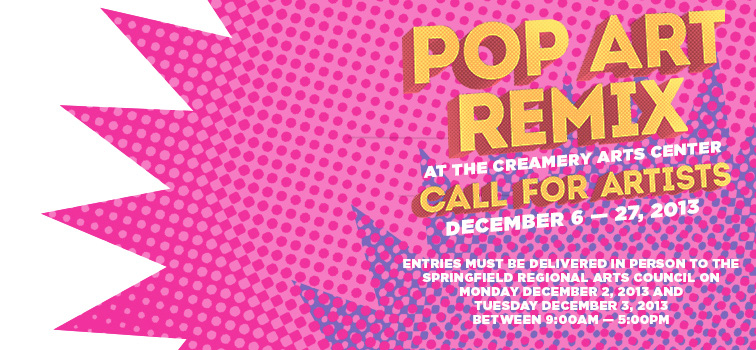 "Pop Art Remix," will be the theme of the Creamery Exhibition Hall show in December, and SRAC invites local and regional artists to submit work that explores pop culture and current events.
The late 1950's pop art movement drew heavily upon popular culture and American iconography, and gave rise to artists such as Andy Warhol, Roy Lichtenstein, and Jasper Johns.
"Pop Art Remix" organizers encourage local and regional artists to put a fresh spin on pop art, taking subject matter from popular culture and current events and using bold images, colors, and media including painting, sculpture, mixed media, graffiti and comic-style art, fiber art, soft sculpture, and wearable art.
Entries may be dropped off between 9:00am and 5:00pm on Monday, December 2 and Tuesday, December 3, 2013.
Participating artists will be required to complete an entry form for each work stating title, artist's name, media, and price. Participants may submit as many pieces as they like for review and potential selection. The SRAC receives a 25% commission on works sold.
"Pop Art Remix" will open on December 6, 2013 with a First Friday Art Walk reception from 6:00pm to 9:00pm. Patrons wishing to purchase a piece as a holiday gift may pick up the work on or before Friday, December 20, 2013.
Works not purchased as holiday gifts will remain on display through Friday, December 27, 2013. The Creamery Arts Center is located at 411 N. Sherman Parkway, Springfield, MO.
For more information, go to: http://www.springfieldarts.org/call-artists-pop-art-remix