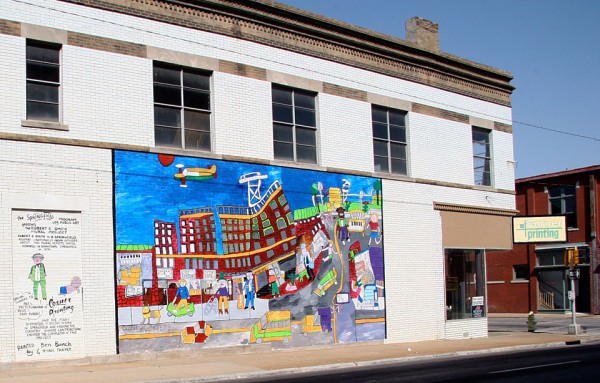 Robert E. Smith is a nationally known folk and "outsider" artist.  His paintings have been featured at New York City's prestigious Museum of American Folk Art and sold at distinguished galleries coast-to-coast.  he has also been featured in The Museum of American Folk Art Encyclopedia of Twentieth Century American Folk Art.  His unique visions, brimming with color, humor and incident, represent a triumph of the imagination over a strenuous and difficult life.
In 2007, the Missouri State University Art & Design Gallery had a retrospective show of his work that drew visitors and collectors from as far as Chicago, Omaha, and Nashville. In 2010 Smith was posthumously awarded the Ozzie Legacy Award by the Springfield Regional Arts Council. For more information and links to his work, go to the Robert E. Smith, artist website
Based on the original painting by Robert E. Smith, this mural on the corner of Campbell & Walnut Street was painted by Chris Friese on the side of the former Corner Printing, now home of Fresh – a collective gallery of fine art and craft. The project was commissioned by the Springfield Program for Public Art, and funding was raised by an art auction of Robert's painting that was purchased by Russ and Pam RuBert and through the support and donations from many supporters of Smith's work, both in Springfield and around the country.