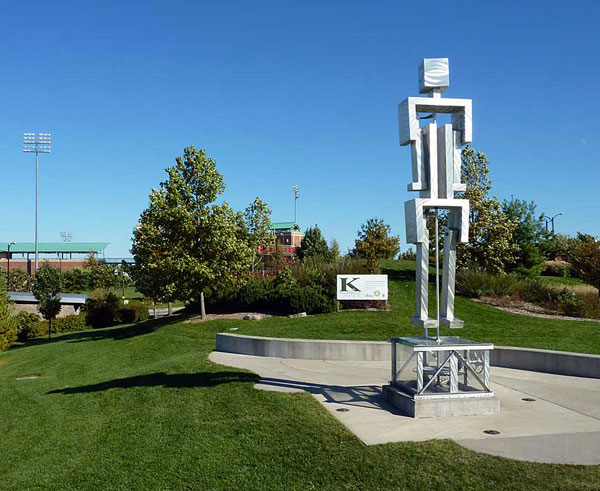 Kinetic Man sculpture (also known as K-man) by Russ RuBert is 23′ tall and turning a gear on the side of the base will make his arms, legs move and head spin. The base is encased in plexiglass, so children can watch the custom crafted gears turning to made the sculpture move.
The sculpture was originally commissioned for the Walt Disney Children's Arts Festivals. After traveling for several years, the sculpture was purchased by the Southeast Rotary Club of Springfield and donated to Jordan Valley Park as part of K-Park, an interactive park designed to spark creativity and imagination.
K-Man and K-Park is located adjacent to the Creamery Arts Center on Sherman Ave., just across the street from Hammons Baseball Stadium. On the evenings of home games for the Cardinals, firework displays in the stadium explode behind K-Man's head, illuminating the vivid patterns in the metal surfaces.