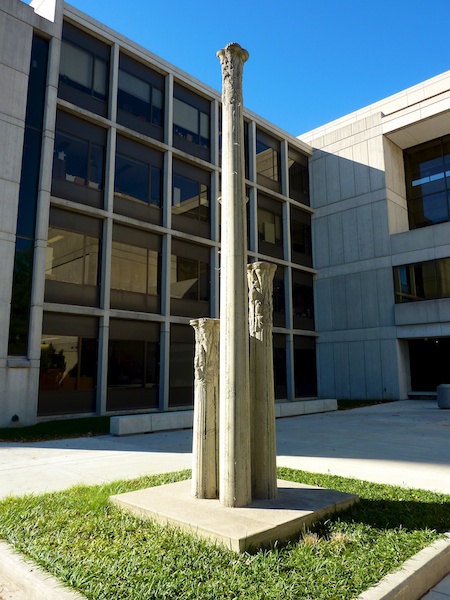 This 16′ tall reinforced concrete sculpture designed for the entrance of Missouri State University's Temple Hall was constructed and poured on site by artist Jerry Hatch with student help — in what Hatch calls a "technical experiment:"
The technical bits that interested me were the forms possible using only the hot-wire, the ability to enlarge the molds easily from smaller scale versions and learning to use concrete, a cheap and reasonably durable media, combined with other materials like copper and bronze.
The mold for the sculpture was designed to be filled from the top by a concrete delivery truck. Using a hot wire, Hatch carved the columns and fossil imagery into styrofoam sheets. An armature was designed by the campus architect/engineer to insure safety and welded to an underground foundation. The styrofoam mold was assembled around the armature and reinforced on the outside with plywood and 2×4's.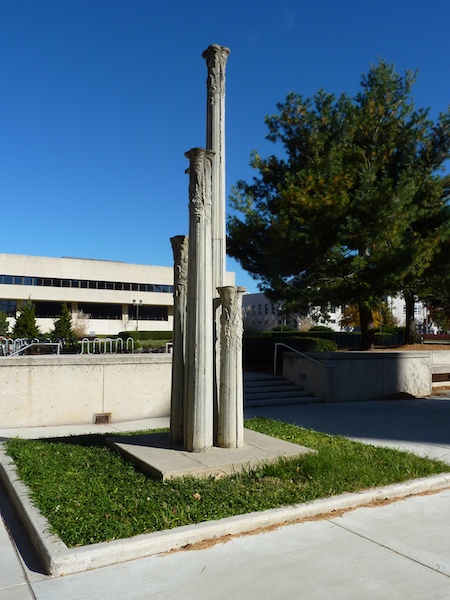 "When the concrete truck arrived it was decided not to risk damaging the lawn so a student and I had to offload all the concrete into 5 gallon buckets, load those onto a cherry-picker and pour them in ourselves, one at a time. It had to be done fast as the concrete was setting and had to be vibrated into place. Turned into an endurance thing. We barely made it."
Copper pipe was tied into the mold so it, and the wire ties, were left exposed. Black pigment was added to the concrete mix to adjust the color. The column imagery alludes to the name of the adjacent building, and the carved details refer to local fossil forms and the science departments housed inside Temple Hall.
The installation of the sculpture was timed with the artist's solo show at the Springfield Art Museum. Jerry Hatch is currently a professor in the Fine Art Department of Missouri State University. His work has been shown at art galleries and universities throughout the region, is part of collections including the Sheldon Memorial Gallery, the Springfield Art Museum, and the University of Tennessee.