The Springfield Regional Arts Council published a Public Art Brochure in 2006 mapping 45 public art sites in the Springfield, Missouri region. Following is the original list, but there have been many additions. We are currently working to update this list, photograph the art, and map it on Google Maps and Google Earth. For the printed brochure, please download the Public Art brochure from the Springfield Regional Arts Council or pick one up at the office in the Creamery Arts Center, 411 N. Sherman Pkwy, Springfield, MO (417) 862-2787
[tabs titles="Downtown, C-Street, Central, Southeast, Southwest"]
[pane]
Downtown
The Downtown Arts District is home to many local businesses including retail boutiques, restaurants, coffee houses, nightclubs, theaters and art galleries. The First Friday Art Walk, when local galleries introduce new works with special music and extended hours, is just one of the popular events you will find in the urban setting of the Downtown Arts District.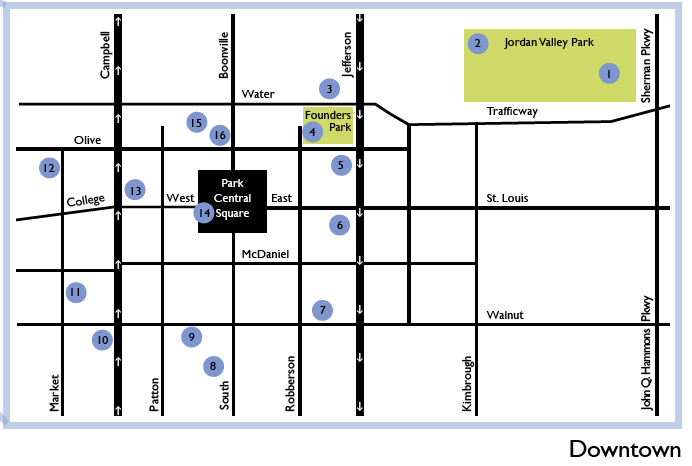 1 K-Man – Artist: Russ RuBert
Location: Jordan Valley Park at Trafficway & Sherman Pkwy
2 Urban Trees Mural – Artist: Farley Lewis
Location: Under Benton/Kimbrough Viaduct along Jordan Valley Park's Ozark Greenways walking path
3 Sounds of Springfield – Artist: Todd Lowery
Location: W side of the building on the NW corner of Jefferson & Water
4 Historical Mural – Artists: Various
Location: W side of Founders Park at the SW corner of Jefferson & Water
5 Bicentennial Mural – Artist: Tim Stanton
Donor: Union National Bank Location: SW corner of Olive and Jefferson on the Woodruff building
6 Friday Morning, 10 AM Mural – Artist: Ellen (Schaeffer) Baird
Location: E side of Jefferson between McDaniel & Park Central E
7 Landers Orpheum Signage – Restoration by Jim Veronee
Location: Back side of the Landers Theatre in alley behind 311 E. Walnut between South & Jefferson
8 The Garden – Artists: Nathan Falter & Jennifer Smith Falter
Tile mosaic 16′ tall x 12′ wide – 1999
Location: south side of building at SW corner of South & Walnut
9 Traffic Mural – Artist: Gregory Michael Grace
Location: S side of Walnut between South & Patton
10 The Robert E. Smith Mural – Artist: Robert E. Smith, painted by Chris Friese
Location: SW corner of Campbell & Walnut
11 Untitled -Designed by Butterfly Productions, painted by Karen Lowery
Location: SW corner of Market & McDaniel
12 Tributaries – Artists: Dave Loewenstein & Bailey Alternative School students
Location: Olive & Market
13 Saturday Evening, 6 PM Mural – Artist: David Guinn
Location: E side of Campbell at Campbell & Park Central W
14 Untitled – Artist: Aristides Demetrios
Location: SW corner of Park Central Square
15 Yellow Bonnet Sign – Artist: Original by Savage Sign Co., Repainted by D & L Signs in conjunction with Sign Doctor
Location: Second building to the W at Boonville and Water
16 Anti-Violence Mural – Designed by Lonita Jamison, age 13
Location: NW corner of Olive & Boonville
[/pane]
[pane]
C-Street
The C-Street Arts District is found along Commercial Street, where developing and established artists can be discovered in an upbeat, eclectic setting. The C-Street Arts District has a feel all its own, with an interesting mix of renovated buildings, loft apartments, street art and music venues. C-Street's railroad heritage is evident in the 100-year-old Jefferson Avenue Footbridge, one of the few railroad footbridges still used by pedestrians.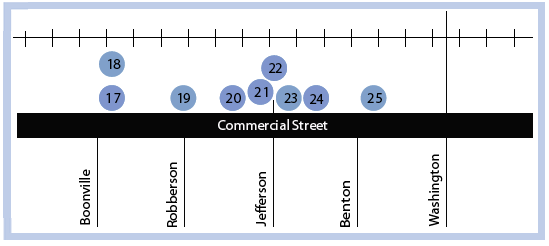 17 Railroad Man – Artists: Stephanie Reiser & Reed Middle School art students
Location: 203 E. Commercial
18 Perchance to Dream – Artist: Tom Ehlers
Location: 203 E. Commercial
19 Sleepy Lion – Artist: Bob Cassilly
Location: 299 E. Commercial
20 Snake Dance – Artist: Mark La Mair
Location: Commercial & Jefferson
21 Rail Connections – Artists: Gary Strunk & Hillcrest High School art students
Location: Commercial & Jefferson
22 Jefferson Avenue Footbridge – Constructed by the American Bridge Company, 1902
Location: Commercial & Jefferson
23 Lighting the Way – Artists: Stephanie Reiser & Reed Middle School art students
Location: Commercial & Jefferson
24 Toot Toot Much Fun – Community project, funded by Missouri Arts Council & Commercial Club of Springfield
Location: 401 E. Commercial
25 King of the Hill – Artist: Mark La Mair
Location: Commercial & Benton
[/pane]
[pane]
Central Springfield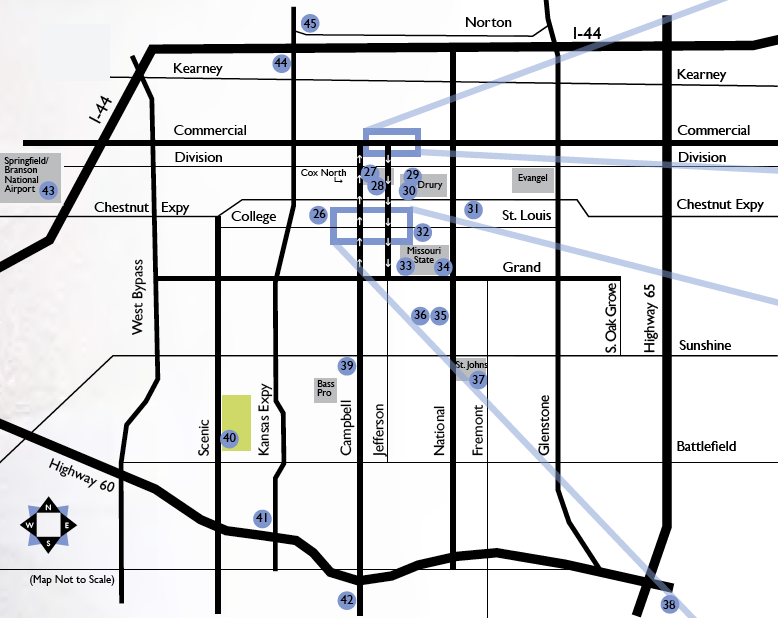 26 The College Street Great Mosaic Wall – Artists: Christine Schilling & Springfield youth
Location: College Street between New & Fort
27 Helping Hands Mural – Artist: George Kieffer
Location: E side of Cox College of Nursing on the SW corner of Jefferson & Division
28 Lester E. Cox – Artist: Leonard McMurry
Location: 1423 N Jefferson in parking lot E of Cox Medical Center, SE corner of Jefferson & Division
29 Dr. Stephen H. Good – Artist: James Hall
Location: Drury University in front of Olin Library
30 Union of Matter & Space – Artist: Brower Hatcher
Location: Drury University in front of Trustee Science Center
31 Glory To God – Artist: Farley Lewis
Location: SE corner of – Chestnut & National, Northwest Springfield
32 John Q. Hammons – Artist: Touché Designs
Location: SW corner of St. Louis & John Q. Hammons Pkwy
33 The Citizen-Scholar – Artist: Jim Hill
Location: Missouri State University, E side of Strong Hall (facing campus)
34 EchoSphere – Artist: Russ RuBert
Location: Missouri State University, NW corner of National & Grand
35 Sun Target – Artist: John Henry
Location: Springfield Art Museum, NW corner of National & Brookside
36 Triangulum – Artist: Richard Hunt
Location: Springfield Art Museum, N of Brookside
37 Eternal Flame – Artist: Russ RuBert
Location: Inside St. John's Cancer Center, NW corner of Cherokee & Fremont
[/pane]
[pane]
Southeast Springfield
38 Payne Stewart Memorial Bronze – Artist: Harry Weber
Location: Missouri Sports Hall of Fame, 3861 Stan Musial Drive, S of Hwy 60
[/pane]
[pane]
Southwest Springfield
39 The Dream Buck – Artist: Dick Idol
Location: Wonders of Wildlife Museum & Aquarium on the SW corner of Sunshine & Campbell
40 Anne Case Drummond – Artist: James Hall
Location: 2400 S. Scenic, Close Memorial Park, N of the lake
41 The World's Largest Fork – Artist: Noble & Associates
Location: 2155 W. Chesterfield Blvd. Chesterfield Village (on N side of W Noble & Associates building)
42 Infinitude – Artist: Larry Young
Location: Library Center, 4653 S. Campbell, S of Highway I-60, Southeast Springfield
43 Sun Thistle – Artist: John Walker
Location: Springfield/Branson National Airport, 5000 W. Kearney, center entrance
44 Skateboard Bronze – Artist: Guillermo Castino
Location: Library Station, 2535 N. Kansas Expwy
45 The Elephant's Child – Artist: Tom Tischler
Location: Dickerson Park Zoo,* 3043 Fort, Fort & Norton near Kansas Expwy
[/pane]
[/tabs]