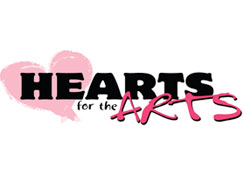 The Springfield Regional Arts Council (SRAC) is calling for artists to participate in the 5th annual Hearts for the Arts, a fundraising exhibition and silent auction of heart-themed works benefitting SRAC's arts education programming.  Hearts for the Arts will be open from Friday, January 11 – Friday, February 1, 2013 at The Creamery Arts Center and online at www.SpringfieldArts.org.
Local and regional artists of any age and experience are invited to submit up to two visual or written pieces for the event using any medium of their choice. All pieces must incorporate a heart theme and be 11×14 in size. Two dimensional pieces must be ready to hang. Three dimensional pieces may be accepted with prior arrangements.  All pieces must be dropped off at The Creamery on Monday or Tuesday, January 7 or 8, 2013 between 9:00am – 5:00pm.
Silent auction bidding will launch at The Creamery and online at www.SpringfieldArts.org on Friday, January 11, 2013 at 5:00pm. Bidding will culminate on First Friday Art Walk, February 1, 2013 during a free public reception from 6:00pm – 9:00pm. Online bidding will end at 8:00pm and in-person gallery bidding will end at 9:00pm.
Hearts for the Arts is the only time SRAC asks artists to donate work. In exchange for the donations, artist names and works will be greatly exposed online and at The Creamery. All Hearts for the Arts proceeds will benefit SRAC's arts education programs that support local teaching artists and arts organizations reaching more than 20,000 children annually in a 27-county region.
National Art Shop, located at 509 South National Avenue, generously offers a 35% discount on 11×14 canvases to artists participating in Hearts for the Arts.
For more information, please contact SRAC by phone at 417-862-2787(ARTS) or by e-mail at Info@SpringfieldArts.org.