May 7-8
Saturday 10 am-6 pm
Sunday 10am – 5pm
Artsfest is the largest fine arts festival in Southwest Missouri featuring original art from over 140 artists from across the country, live performances, food from some of Springfield's favorite restaurants, and a kids hands-on area with activities including Chalk-It-Up and the Claymobile, a mobile ceramic arts workshop.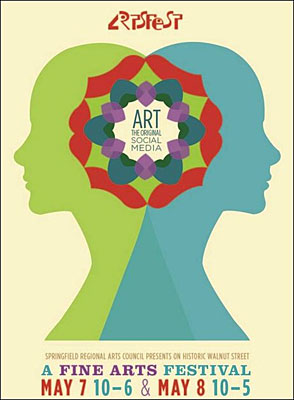 "Art: The Original Social Media"
The 2011 theme for Artsfest will give festival-goers new interactive and social media elements to explore including photos by a green screen, a "Tweet-Pond" and a social media scavenger hunt for Facebook followers.
This year's festival also happens to fall on Mother's Day, May 8, so the first 500 mothers through the gate on Sunday will receive a free gift.
Artsfest tickets are $3 in advance at area McDonald's restaurants beginning April 18 and $5 at the gate. Children 5 and under are free.
For more information on the festival including a full listing of participating artists, performance schedule, and information on Artbucks (the Artsfest gift certificates) visit www.SpringfieldArtsFest.org.
Map to Artsfest

View Artsfest in Springfield, Missouri in a larger map