A two-month long project led by biology teacher Justine Lines, artist-in-residence Christine Schilling, and art teacher Jessica Loudis involved over 150 students at Glendale High School to create Conspirare: To Breathe Together – a ninety-foot mosaic wall that borders Glendale's new outdoor classroom. The public art installation, along with new concrete benches that surround an open-air stage, was unveiled and dedicated at an Earth Day ceremony on April 22, 2013.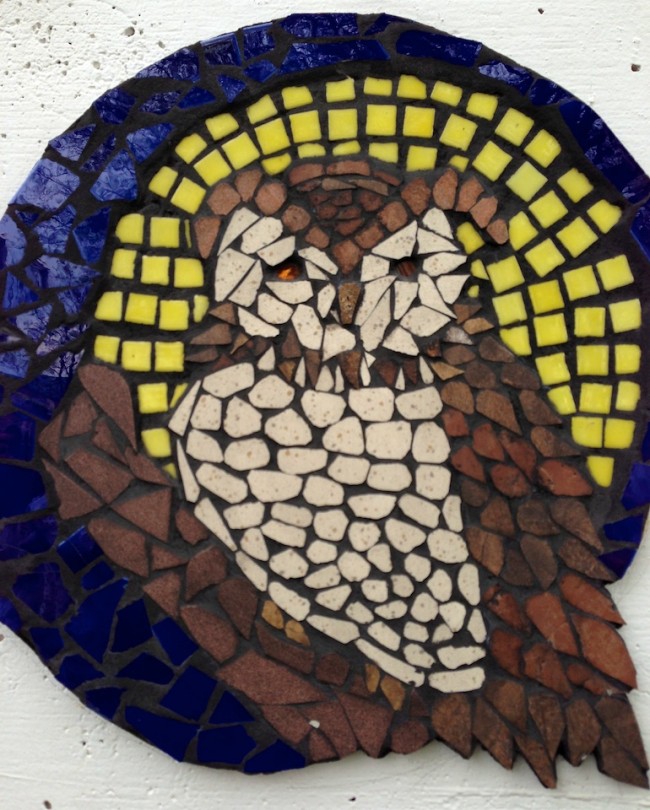 The artwork illustrates the Biology Major themes of food chains and webs and four major Missouri ecosystems — Field, Forest, Wetland, and Cave. The nature and art collaboration involved research, design and installation for ten mosaic medallions ranging in size from two to seven feet in diameter. Each mosaic composition contains symbols to represent a different ecosystem: the honey bee for fields, blue bird for wetlands, great horned owl for the forest floor, and bat for caves.
Other visual highlights include a six-foot milkweed plant being eaten by giant monarch caterpillar, a four-foot blue heron eating a fish, a giant leopard frog eating ants, and bats hanging in a crystal-laden cave.
The team worked with Linda Chorice, Director of the Missouri Department of Conservation's Springfield Conservation Nature Center who supplied information and visual reference materials to the students during the design phase of the project. Chorice spoke at the dedication ceremony about the important role art plays in the study, observation, and documentation of nature.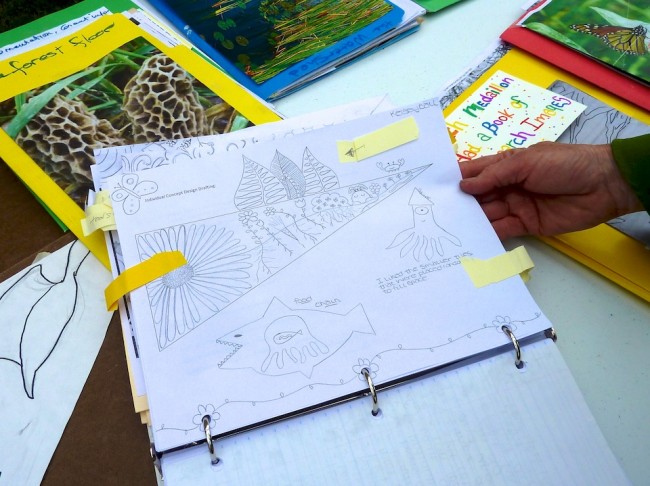 Students involved in the project studied the Missouri Conservation Department materials, then submitted their own visual interpretations. These initial drawings were then incorporated into cohesive compositions by Christine Schilling for the large murals, who also assigned smaller graphic projects to the students so they could learn the mosaic-creation process and make smaller tiles to frame the outdoor stage.
The mosaic project was funded by the Missouri Arts Council, Glendale A+ program, and Ozarks Friends for the Environment. Benches for the outdoor classroom were donated by Glendale A+ program, The Foundation for Springfield Public Schools, Glendale PTSA, GHS Leaders in Environmental Action for the Future, Librarian Shellie Foltz, and a Wal-Mart Grant.
Installation was accomplished by Samuel Lines, the Artful Craftsman and Tom Ehlers of Stone Effects, with a final push of effort by Glendale alumni Denine Taliaferro and Susie Henry.
The dedication ceremony also marked the 50th anniversary of Glendale High School. Visitors to the event were also invited to tour the Glendale Green Garden and High Tunnel greenhouse, created by GHS students in the "Ecology of the Garden" research and design course taught by Justine Lines.
For more information about this project, contact Justine Lines at the GHS Biology/Science Department and artist Christine Schilling at Mosaica Studio.