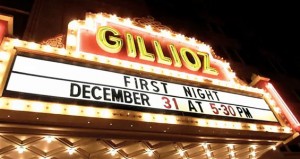 Video highlights from the 20th anniversary of First Night Springfield on YouTube. First Night is a family-friendly New Year's Eve celebration of the arts featuring live music, theater, galleries, and fireworks finale at 11 downtown locations and 25 events. Scenes include the Forbidden Opera, SuperCharge, Jah Kings, 1984, Wingtips, Skinny Improv, Low Down Fancy, Young Artist & Youth Players, Children's Hands-on Activities, and a spectacular Fireworks Grand Finale featuring Kim Crosby at Jordan Vally Park in Springfield, Missouri.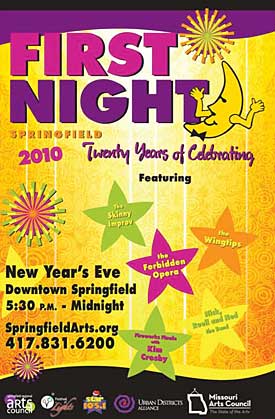 First Night Springfield! is sponsored by the Springfield Regional Arts Council and managed by the Urban Districts Alliance.
The event is supported by corporate sponsors Empire Bank, Conco, Med-Pay Inc., Ridewell Suspensions, O'Reilly Auto Parts, Rick's Automotives, the Daily Events, Good Girl Art, Hawthorne Galleries Inc., Liberty Bank, Home Builders, Neale & Newman, Springfield First Community Bank, KSPR, 88.3 The Wind, Star 105.1, 92.9 Bass Country, Great Southern, Ozarks Bottling Company, Second Baptist Church, Central Assembly, Cox Health, Bancorp South, Food Equipment Company, O&S Trucking, CID, and the Missouri Arts Council.