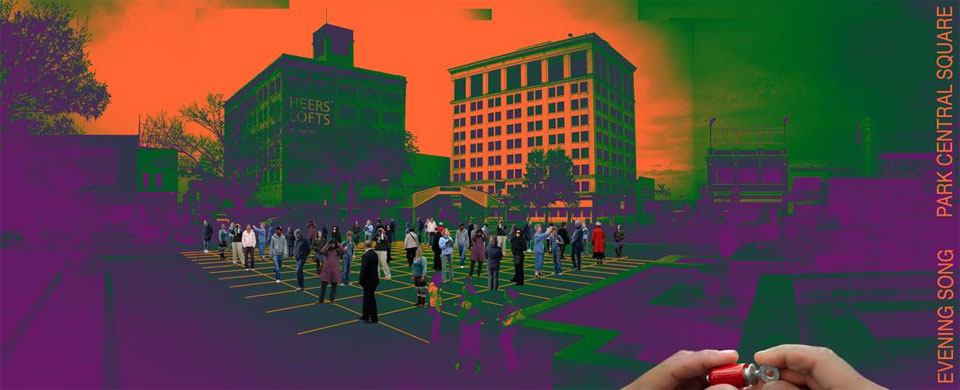 April 4th — Evening Song
On April 4th from 5:30-6:30 p.m., the ideaXfactory will host a training workshop for Morning Song/Evening Song, a sound installation organized by Gerard Nadeau, professor of architecture at Drury University. The installation will consist of two gatherings of Springfieldians trained to use Audubon bird calls.
Kathleen Cowens and Andrew Kinslow from the Greater Ozarks Audubon Society will conduct the workshop about identifying birds downtown by their calls and songs, with pointers on how to mimic bird calls with the Audubon bird calls being used for the sound installation.
After the workshop and some instruction, participants will move up to Park Central Square to enact the Evening Song Chorus, in collaboration with OTC's "Synergy" — a program of live music, painting and theater on the Square. The enactment of the Evening Song Chorus will occur on the Square promply at 7:18 and will continue until sunset at 7:38. Starting in silence, the group will slowly begin to create bird calls, building into a crescendo of many overlapping bird calls, then fade away back into silence.
Participants get to keep their bird calls!
April 5th – Morning Song
The second event will follow the next day April 5th at sunrise at 6:53 a.m. Coffee and tea will be served at the ideaXfactory starting at 6:00 a.m. Then the group will walk to the West Meadows for the second sound event Morning Song, which should finish about 7:23 a.m.
April First Friday Art Walk on April 4th
During the April 4th First Friday Art Walk, in addition to the Morning Song/Evening Song training workshop, the ideaXfactory will have on display a preview of art auction items for the April 5th Beaux Arts Ball to benefit Rare Breed.