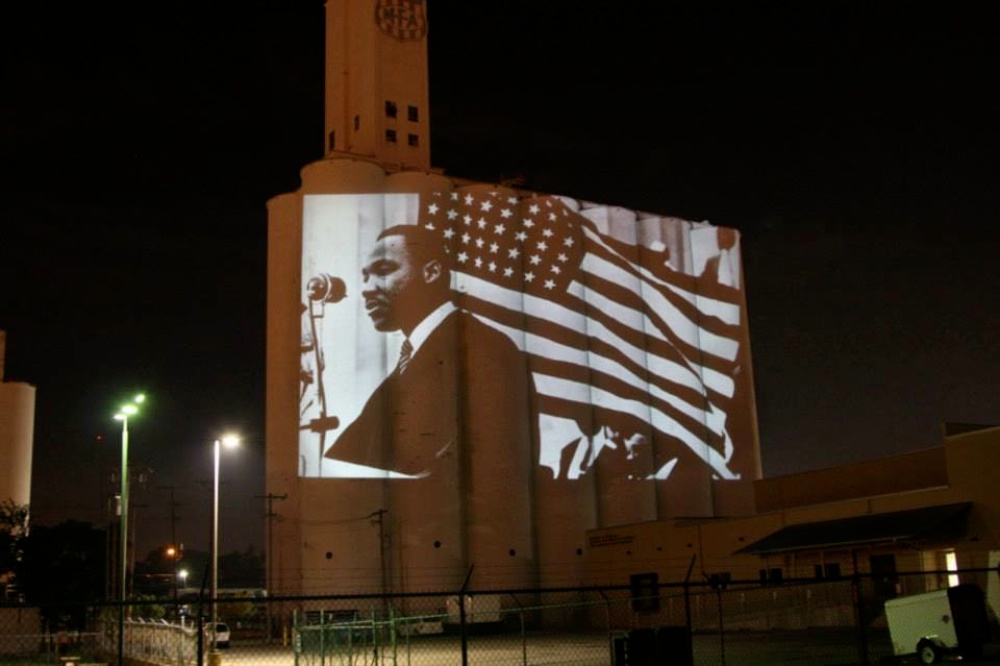 A series of projections spanning 170′ wide historic silos located in downtown IDEA Commons by artist Russ RuBert has inspired the City of Springfield to invite the artist to project images and video on a large canvas that will be installed in Park Central Square for the Unity March and Celebration of the 50th anniversary of Martin Luther King's "I Have a Dream" speech and march on Washington.
RuBert says, "I've long been an admirer of Dr. Martin Luther King Jr., and first had the idea of projecting images of MLK on the Silos just after the Trayvon Martin verdict, the same time marches (mostly nonviolent) were happening in many other cities in reaction to the verdict. I knew the 50th anniversary of the "I have a Dream" speech was coming up, and though it seemed far off then… I thought that Dr. King's message of nonviolence and desire for unity was powerful and fitting, even 50 years later."
On Wednesday, Aug. 28, 2013, community leaders and organizations invite the public to join a Unity March starting at 7:30 p.m.on the north side of the Martin Luther King Jr. Bridge at the 400 block of East Tampa St. Parking is available at Jordan Valley Community Health Center.
The March will travel along Benton to St. Louis Street, then head to Park Central Square. Springfield Mayor Bob Stephens and local faith leaders will give their respects and share how of Rev. Martin Luther King Jr.'s social justice work effects Springfieldians today.
With the permission of the King Family, the iconic speech will be projected by RuBert on a large canvas installation at the Square. A symbolic "burial of hate" time capsule will be placed under a monument that memorializes three African-American men – Horace Duncan, Fred Coker and Will Allen who were public lynched on the Square in 1906.
"The ramifications, the repercussions of it still exist today," said Mayor Bob Stephens. "There is a tremendous opportunity in Springfield but, in part, we've got to deal with what happened and understand it and make sure nothing like this ever happens again."
Despite the painful reminder, organizers see the overall event as one to promote understanding and to celebrate the messages of Dr. King.
Springfield City Manager Greg Burris says the event, presented by the Greater Springfield Race and Faith Collaborative, will kick off an entire year of focus on civil rights issues in Springfield to encourage more diversity in work and educational environments.
Additional support comes from the City of Springfield; CoxHealth; Council of Churches of the Ozarks; Drury University ; Evangel; ideaXfactory; Mercy; NAACP Springfield; Oke-Thomas & Associates ; OTC ; Russ Rubert; Springfield Area Chamber of Commerce; Springfield-Greene County Libraries; Missouri State University.
For more information, visit the 50th MLK March on Washington & I Have A Dream Speech Facebook event page. For more images of the silo projections, go to the ideaXfactory project – Dr. Martin Luther King Jr. Projections on Historic Silos in IDEA Commons.