This year's C-Street Loftwalk was abuzz with art as artists from Art Factory 417 and LemonDrop strolled and rolled up and down Commercial Street in steampunk-inspired garb.
The Drury University Chapter of AIAS (American Institute of Architecture Students) joined with artist Christine Kreamer-Schilling to host a design charrette, inviting loft-walkers to come inside her Mosaica studio and contribute ideas for a kinetic, whimsical steampunk fence she plans to create as an entrance to her sculpture garden.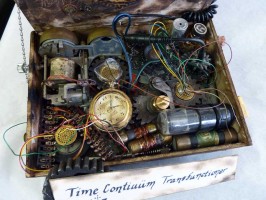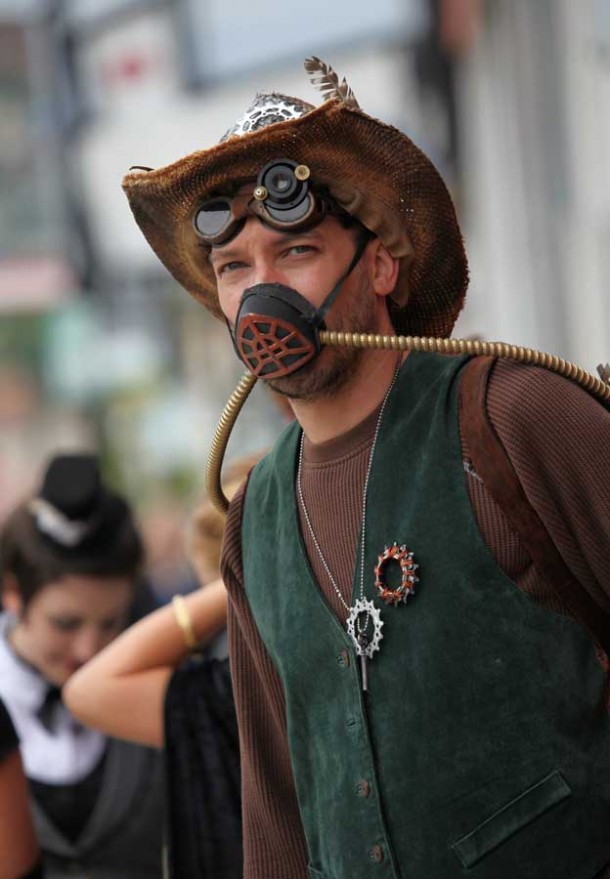 Charrette organizers provided participants with educational materials about steampunk, including hands-on materials, books, photos, and diagrams, and participants were invited to contribute drawings and suggestions to the early design process.
Kat Allie's OTC art students displayed sculpture and drawings inspired by the theme, more artists displayed sculpture out on the street, and models posed at many locations on the street in steampunk-styled fashion, with body painting, jewelry and hairstyles contributed by Decades Boutique, Alchemy a salon, Art Factory 417, GLO center, and others.
Surprise visitors from the Missouri Steampunk Empire made an appearance, alerted to the event through a posting on their social website. The steampunk theme — a blend of Victorian and Industrial Revolution-era elements with a futuristic twist — is perfect metaphor for eclectic nature of historic Commercial Street that is being revitalized by artists and art.
Photos by Russ RuBert – Click on a thumbnail below to view the photo gallery.